Career INFO


Seoyon E-Hwa grows together with creative and future-oriented talents.
Recruitment Process
Job Information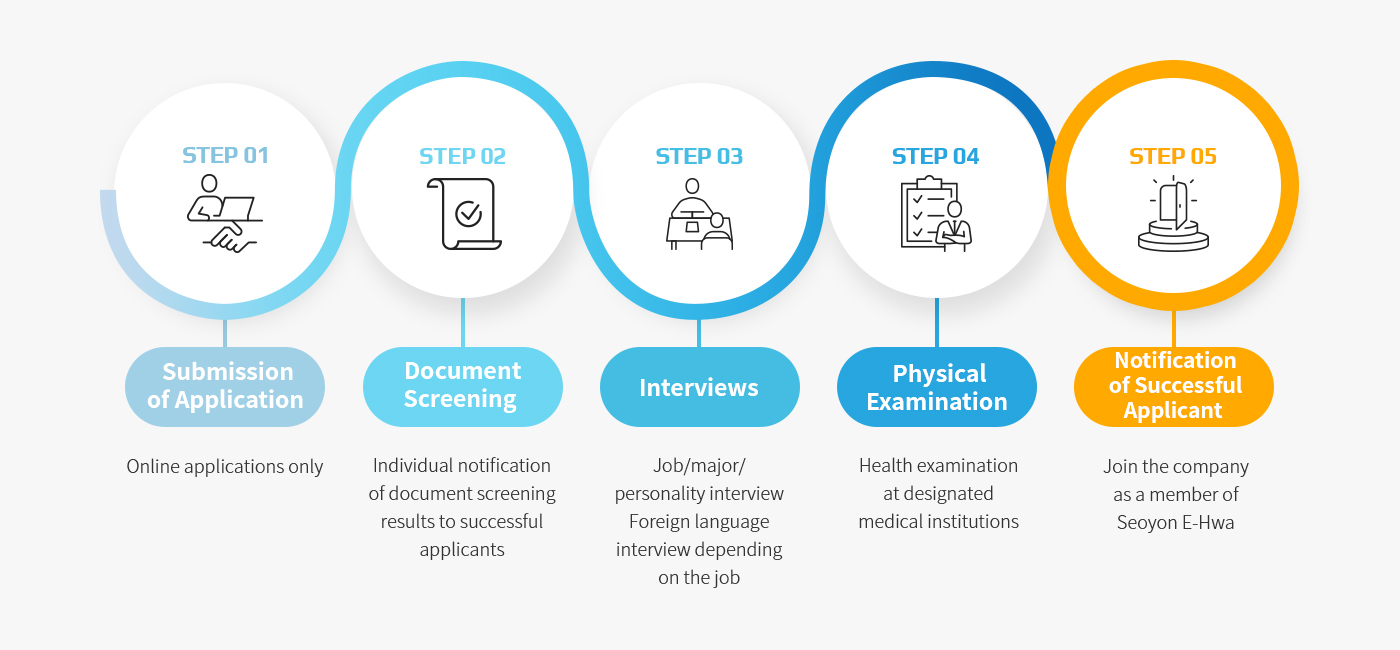 R&D
The research position is in charge of continuous technology development and research of core technologies to secure product competitiveness, which is the source of corporate competitiveness.
Design

We perform design work to manufacture optimal products that meet customer needs, including total interior and exterior products for domestic and overseas automobiles such as interior parts including door panels, center consoles, headliners, package trays, side trims, etc., exterior parts such as bumpers, and seats.

Prior Verification

We aim to predict performance and secure early quality in the product development stage. Before the issuance of design drawings, pre-verification of product assembly tolerances, structure, injection molding, lighting performance, etc., is performed using computational analysis, and BSR and crash safety-related tests are performed on prototypes.

New Technology Development

We conduct independent development of new technologies/methods for the structure and manufacturing methods of automotive interior/exterior parts and joint development of technologies required by customers according to future technology trends, secure our own technologies by carrying out government tasks in accordance with the national industrial development policy, review and produce molding structures, and perform prior development tasks such as optimization of molding conditions.
New Material Development

We are researching and developing materials used for automotive interior and exterior materials. We develop eco-friendly materials, lightweight materials, and high-quality materials that fit the trend of eco-friendly automobiles through independent development, joint development with customers, and government tasks.

Development

We are responsible for the mass production feasibility review of methods/materials and mold development improvement to secure quality and parts development in the new automobile development stage. With the goal of early stabilization of mass production quality, we are carrying out 4M establishment and quality stabilization support activities for domestic/overseas workplaces and parts companies.

Design

We conduct future mobility interior user environment change analysis, user experience (UX) proposals, physical models and VR model production proposals for customer proposals (Biz Model), and joint development of advanced design and new products through partnerships with global automobiles.
Management Support
The management support position is a job that performs management and support functions for all tasks so that efficient product manufacturing and performance creation can be achieved throughout the company.
Sales Operations

We are in charge of receiving orders for new/following automotive models from customers and setting prices. We negotiate and decide strategic bidding, optimal supply prices, and parts purchase prices with customers and partners to ensure continuous growth, profitability, and sales expansion of the company.

Planning

We establish the mid- to long-term plans of the company and support the decision making of the management based on the investigation of changes in the business environment to provide directions for resolving the company's current issues and establishing strategies for all sectors. Our tasks are broadly divided into strategic planning, business management analysis, budget management, and organizational management.

HR/Labor

In HR, we plan and operate an efficient HR system and training based on the company vision. In Labor, we maintain and develop a win-win partnership based on trust between labor and management.
Finance

We carry out accounting and tax processing in accordance with international accounting standards and various laws; efficient planning, operation, and procurement of funds; and timely disclosure of related matters. Furthermore, by calculating, processing, and providing accounting and financial data, we support the decision making of the company to become more effective and efficient.

Safety/Health/Environment

We conduct major disaster prevention, safety inspection and improvement, safety and health training, work environment measurements, etc., for the operation of safe and healthy workplaces; waste treatment management, hazardous material management, and air pollution prevention facility management for environmental preservation; and firefighting facility management for fire prevention.

Purchasing/Materials

We make it possible to supply parts, raw materials, and goods necessary for product manufacturing and company operation at an appropriate price, and promote win-win growth by cooperating with partners with optimal quality and delivery capability.
IT

We conduct computational development such as ERP, MES, and groupware, and perform operation and maintenance tasks so that IT infrastructure such as networks and security systems can be stably serviced. We are also involved in global IT information strategy planning and IT infrastructure establishment.
Quality
The quality position operates a quality management system to supply products that satisfy customers, and is in charge of systematic management of guaranteed quality from the design and development stage to mass production.
Quality Management

We are in charge of establishing processes according to the requirements of the quality planning and quality management system (IATF 16949) of the automotive industry, maintaining and improving a stable quality management system through cooperation with related organizations, forming a company-wide mindset and improving profitability with self-improvement activities.

New Automobile Quality

As part of quality activities before mass production, we carry out quality improvement/verification activities throughout the development stage of new automobiles from securing the quality of new automobiles to the quality of new automotive parts.

Mass Production Quality

Through quality control activities throughout the entire manufacturing process of the currently produced products, we ensure that high-quality products can be delivered to customers in a timely manner.
Global Quality

We perform the role of a quality control tower for overseas workplaces to satisfy global quality requirements and quality assurance tasks for parts exported to overseas workplaces in various countries and establish customer satisfaction and a preventive quality system through this.

Testing

We strive to meet the quality needs of our customers by evaluating the performance and durability of development and production. There are various items for tests in addition to environment/regulation/physical properties, and equipment such as analyzers and testers are operated for such evaluation.
Mass Production
The mass production position is in charge of production, production management, production technology, and equipment management that comprehensively controls production resources (4M) in the plant and economically manages them (process management) to produce finished products.
Production

We manufacture products by operating a manufacturing site with 4M (Man, Machine, Material, Method), and are in charge of improvement tasks to improve manufacturing competitiveness by comprehensively managing production information such as production volume, non-operation, defects, production facility status, etc.

Production Management

In addition to planning tasks to manage efficient production through 4M, we also play the role of a control tower that suggests the direction of plant operation by performing after-sales service tasks to realize customer satisfaction with delivery standards, as well as material, delivery, and sales tasks.

Production Technology

We satisfy quality, price, and delivery through 4M (Man, Machine, Material, Method). The ultimate value of these production technologies lies in providing 4M configuration technology that optimizes and maximizes the profitability of the company.
Facility Management

We maintain and manage the optimal facility operation condition with preventive maintenance activities such as the maintenance and improvement of production facilities, utility facilities, and equipment. In addition, we are supporting utility construction for new lines and early stabilization of facilities.
Global
The global position efficiently manages overseas sales and corporate management to achieve business performance.
Overseas Corporation Management

We check and manage major issues at overseas workplaces and carry out various overseas corporation management activities to achieve long-term and short-term overseas business goals.

Overseas Sales Operations –

We conduct continuous marketing to inform overseas automobile OEMs about Seoyon E-Hwa, respond to quotations for new project orders, and perform all tasks up to SOP when project orders are received.

KD Operation

We contribute to the stabilization of production of overseas corporations by purchasing, packaging, and shipping products necessary for products manufactured by overseas corporations, and perform tasks related to FTAs, C/O System, and customs refunds.