Intelligent
manufacturing
innovation

Differentiated technology is applied in the manufacturing
of our products for the performance/quality/reliability
required by customers.

Digital Transformation!
We have set a safe production environment, digital transformation of manufacturing data,
and manufacturing innovation where humans and robots coexist as our future growth strategies.
Through continuous activities of digital transformation and engineering innovation,
we will achieve human-centered manufacturing innovation.


INTELLIGENT SAFETY

In order to realize a safe production environment, we have introduced fire control, AI safety detection, and AI patrol robot to continuously build an environment to prevent safety accidents. We will secure convergence technology manpower. In addition, we will build a safe manufacturing environment in cooperation with a software company.

HUMAN TECHNOLOGY

We are developing human-centered manufacturing technology that enables workers and robots to coexist through innovative robotics technology. In addition, we are building an environment for using robots that can communicate with workers and physically interact through data. We will realize collaboration with people through robots and manufacturing facilities capable of 'soulware' that combines intelligence and emotion.

DIGITAL TRANSFORMATION

We digitalize manufacturing activity information accumulated over 50 years of history and realize a connection between data through an integrated management system. This will ensure transparent decision-making and provide our customers with agile and reliable manufacturing capabilities.
Seoyon E-Hwa is devoting its company-wide capabilities to achieve intelligent manufacturing innovation and operates a dedicated organization.
We will prepare for the future industrial environment by nurturing convergence talents, including data scientists.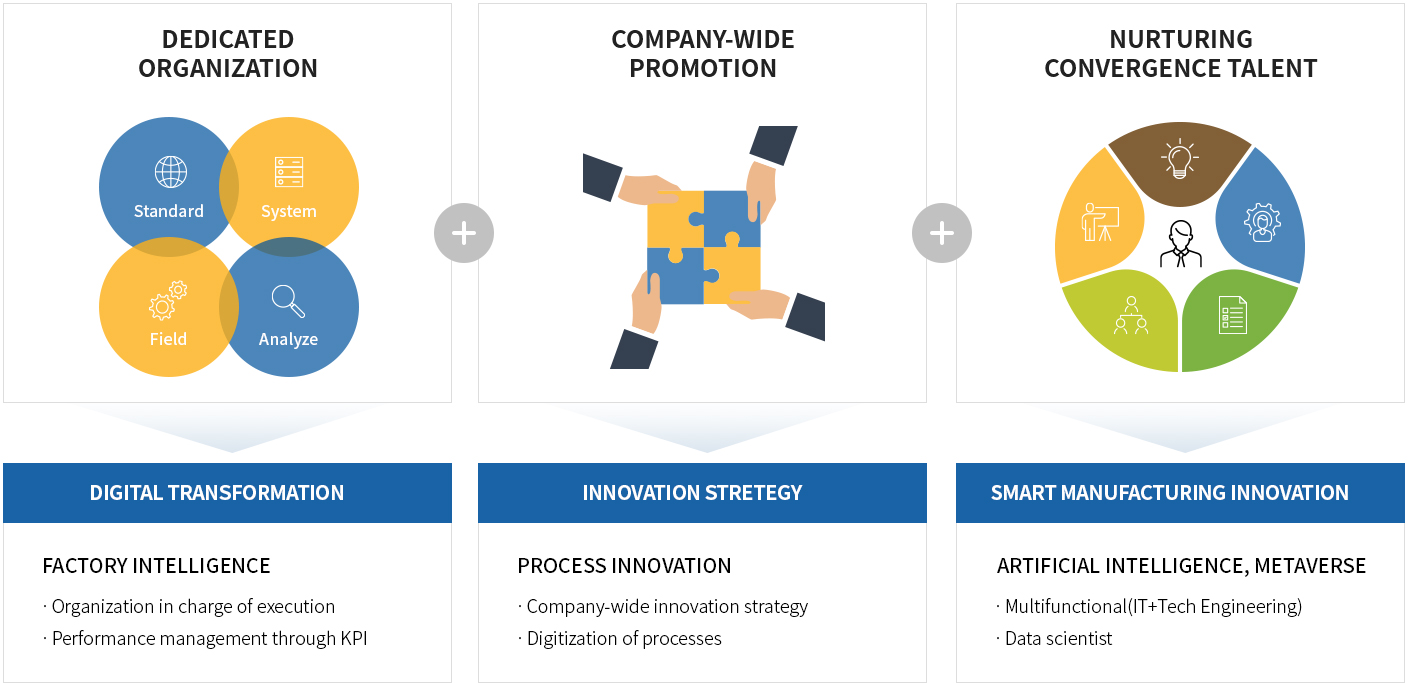 Seoyon E-Hwa is pursuing continuous innovation activities to advance into smart factory
advancement through intelligent manufacturing innovation. We are trying to secure global manufacturing
competitiveness through an automated logistics environment by introducing digital twins, control,
and artificial intelligence to build a fully connected manufacturing environment.


GFCS (Global Factory Control System)

By applying a standardized control system to global manufacturing plants, Seoyon E-Hwa can satisfy both domestic and foreign customers and provide reliable management information. An intelligent control system that can secure fire, safety and security can ensure a safe manufacturing environment.

AQS (Artificial Intelligence Quality System)

Seoyon E-Hwa is introducing machine learning, part performance prediction using deep learning technology, and artificial intelligence quality inspection to predict noise performance in advance. Through this, we want to establish a reliable quality assurance system. Perfect quality through data can satisfy domestic and foreign customers.

AMR (Autonomous Mobile Robot)

Seoyon E-Hwa is building an automated logistics system by realizing the mobility technology of the manufacturing environment and utilizing advanced transportation means. We are nurturing our own human resources for autonomous driving and transport technology. We are also pursuing innovation in the manufacturing environment through collaboration with startups.

SDT (Smart Digital Twin System)

Seoyeon Ewha is building a DX environment through all data connections in the manufacturing environment and conducting real-time monitoring. Through this, Seoyon E-Hwa pursues safe and efficient production activities.
Examples of Building an intelligent system
Optimization of defects and production conditions through manufacturing data analysis of the welding process

Door Trim weld inspection image judgement AI applied